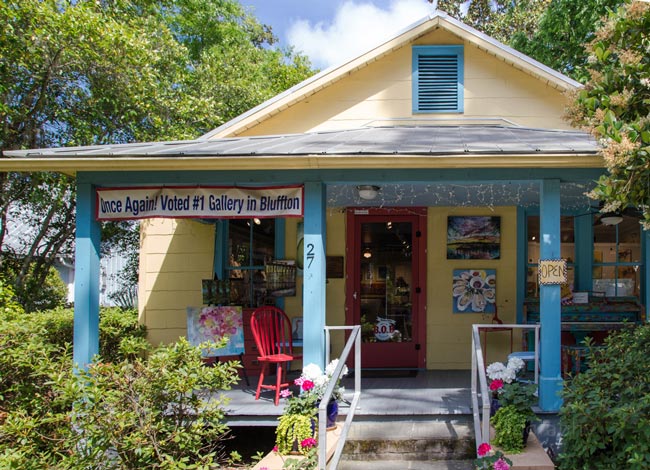 ---
History of Pluff Mudd Art
Pluff Mudd Art Gallery was originally formed in April 2002 under the name of A Guild of Bluffton Artists. Local artist Bill Mattox first came up with the idea of a co-op art gallery and approached fellow artists Lynda K. Potter, Jon Nelson and Peggy Duncan with this concept. They all agreed the idea would be a great way to promote local art in "Old Town" Bluffton. To increase the variety of art displayed at the gallery, they decided to invite other Bluffton artists to join them as members of the Guild.

In 2006, after 4 successful years at their original location, A Guild of Bluffton Artists moved across Calhoun Street to their present location. With the move, they expanded their membership to include local artists from Hilton Head and Beaufort and changed their name from A Guild of Bluffton Artists to Pluff Mudd Art.

The name "Pluff Mud" also known as "Plough Mud" is the Lowcountry term used to describe the dark, soft soil found at the bottom of the marshes and at the edges of the May River, which is at the end of Calhoun Street.

The Pluff Mudd Art Gallery has grown each year and owes its success to the talent, quality artwork and dedication of its members.

---
Visit us and see why people in the lowcountry love Pluff Mudd!